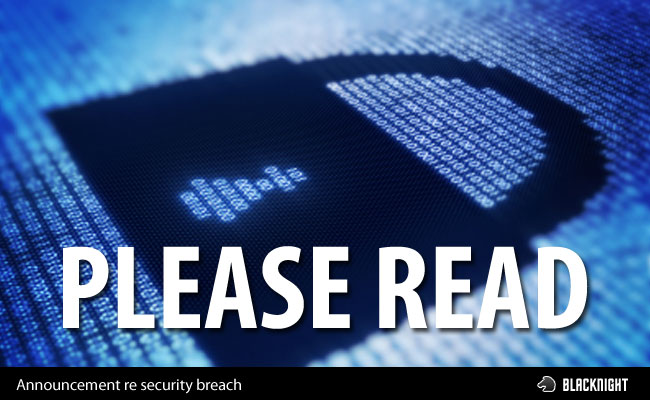 Normally we blog about pretty much all news we have – both good news and bad news.
This morning, however, we felt it prudent to take a slightly different route and emailed our clients directly before publishing anything anywhere else.
As has been covered in the media today we had a security issue which led to some customer data being breached.
The below is the official release that we have issued
Blacknight Hit By Security Breach, Reports Minimal Damage
February 1, 2012 – Carlow, Ireland – Irish registrar and hosting company Blacknight experienced a security breach on January 31, 2012.
No financial data has been compromised and the damages are minimal. The breach may however, include client contact details such as email addresses and telephone numbers. Up to 40,000 customers may have been affected.
The breach occurred on January 31, 2012 and was caused by an external compromise.  Blacknight is investigating the issue further and taking appropriate steps to prevent a re-occurrence of the issue. Blacknight have already been in touch with Dataprotection.ie and Iriss.ie in regard to this matter. Blacknight will also be in contact with Gardai for a further investigation.
Michele Neylon of Blacknight explains: "We take our responsibilities to our customers very seriously and have already been in touch with the Data Protection Commissioner and have informed them of the breach. Blacknight is a secure company, however data breaches are a reality that almost every online company must face. We are taking this opportunity to increase our security even further and apologize to our customers for any inconvenience this may cause."
Blacknight is highly active in the online security community and work with enforcement groups to address and eradicate cyber crime. The company is passionate about educating its customers on ways to identify and prevent cybercrime and is taking measures to increase security even further.
Blacknight are recommending that users update passwords used for Blacknight.com and be mindful of any unusual online account activity.
If you have questions about the breach or require additional information, please contact support@blacknight.com